Blackjack Games
Blackjack is well known in gambling and card-playing circles as one of the best games you can play in a casino. If a casino is big enough to have a variety of table games available, blackjack is going to be one of the prime contenders for the floor space.
If you decide to play online, there are exciting blackjack games to be found in almost every online casino. Slots might be the big money makers for casinos, but blackjack is everyone's beloved card game that just has to be there.
Casino of the Month
18+ Gamble Responsibly | T&C Apply.
Best online casinos 2021
How Did Blackjack Become the Most Popular Casino Card Game?
Blackjack has a long history that most likely began in France, in the 1700s. Known as Vingt-et-Un, or twenty-one, it was played in many salons and courts of the French aristocracy.
Did you know that gambling back then was a genteel sport that you would simply have to play in order to socialize with the upper crust and get any political work done? The palace of Versailles was filled to the brim with gambling tables and the most popular games of the time were faro (pharaoh), whist, or chemin de fer.
Everything was arranged according to class and importance – instead of the VIP lounge, the most high-betting and important players would be ushered to the queen's table. Marie Antoinette was known for extravagant betting, and it was one of her favorite pastimes.
Certain games survived from that time period, and while whist and pharaoh aren't the first things that come to mind when you think of Monte Carlo or Vegas, blackjack certainly is.
There are several reasons for that: blackjack is a fast game that won't leave you bored at the table. Cards are drawn quickly, wins and losses are counted, and the next turn begins. Blackjack is practically called the slot machine of card games. Of course, there's one big difference:
The odds in blackjack are very player-friendly. If you're looking for a game with great odds then blackjack is your best bet. Here, the house edge is gentle and it's easy to get immersed in winning streaks, or at least keep it even so you can enjoy the game for a longer period of time.
Playing Blackjack in a Casino
In brick-and-mortar casinos, blackjack tables can be enjoyed at a relatively low buy-in. Even if a casino offers plenty of tables, you'll be surprised to see that there are plenty of novelty blackjack machines around. There are so many incredible software developers out there with unique visions for this game, that it's exciting to try new ways of playing.
You might even stumble upon a holographic croupier – an attraction in some casinos that surround the Lake Tahoe shore. Here, you can sit down with your friends and play against ever-changing holographic dealers. The fun is simply indescribable, and can only be compared to a social video game get together with a group of friends.
When you walk into a casino, it's important to see what house rules there are for blackjack. There can be a variety of them, and you wouldn't want to be unpleasantly surprised or have your game interrupted. Where to look for local blackjack rules and how can they vary from casino to casino?
Most casinos will have seven betting spots. This means that up to seven people can gamble at one table. A few casinos will whittle that number down to only five players.
Another big difference to be on the lookout for, as it may affect the house edge, is the shoe. Most casinos will deal cards out of a shoe – avoid tables where the cards are being shuffled automatically after every draw. This will lower your chances of drawing a natural blackjack and beating the house. Always look for the shoe, and avoid automatic shuffling machines!
The amount of decks people play with also matters. In a perfect world, we would play blackjack with only one deck, but that never happens in a casino. When you play with multiple decks, the game is longer, the table doesn't need to be maintained as often, and most importantly – the more decks, the bigger the house edge gets.
In a game that is known for being kind to the player in terms of great odds, the house grabs at every chance it gets!
Other casino particularities include card handling. Some casinos let you handle the blackjack cards while most don't. If you're at a casino that allows card touching, make sure to only touch them with one hand. You will receive your draw face down and will be responsible for turning it over. Most casinos don't do that because it tends to create added confusion and stall the game.
Most casinos have the dealer handle both cards and chips.
What to Look for in a Blackjack Table
If you're new to blackjack and you're confused which table to sit at, consider these few things.
Casinos like new players – and the dealers will always be friendly and accomodating. No, you're not going to get stared down or intimidated. Just say you're new to the game and people will be more than willing to guide you.
Know your limits – there are usually limits posted somewhere on the table – make sure you don't sit down somewhere where the minimum bet is too much for you. For example, some blackjack tables might have a minimum bet of as much as 25$, while others will be beginner-friendly with 5$.
Of course, the currency depends on which country you play at. Know what currency a casino accepts. European casinos will deal in Euros, and casinos in places like Egypt will deal in American Dollars or in Euros, but not in local currency.
Blackjack Online – What Are Your Options?
When you play online as opposed to a brick-and-mortar casino, the good news is that your options are virtually endless. This is because every "real" casino, whether in the US, Europe, or Australia needs to take space into account. They pay for every square meter of the casino floor, and if they put in too much of either roulette, blackjack or poker, they won't have enough variety to attract the kind of customers they'd like.
Choice and variety rule, and when it comes to those two things online casinos are the absolute best. Providing the best variety of games is something that online casinos do so well, that you are most likely to learn new games here and gain expertise than anywhere else.
Playing online means you get the best access to all sorts of slot games, live games, and sports betting. As far as blackjack is concerned, you get a crazy amount of options as well. Here they are:
Live Blackjack
Live online blackjack is an incredible phenomenon. Not too long ago, excellent quality live games were a bit difficult to pull off because of things like internet speed. This was especially true for those of us who love to take gambling with us on our mobile devices.
But as internet speeds grew and live technology progressed with Skype, Zoom, Facebook Messanger, and live-action online games for systems like Xbox or Nintendo, things were getting serious in the gambling world as well. After all, a lot of gambling software developers are absolute mavericks and leaders in cutting edge technology.
Most online casinos offer a variety of live blackjack options. This is perfect when all you want is a little bit of human interaction and the awareness that you're playing not only for real money but with real people too. It's so much more exciting to beat the dealer if you can actually see them and chat with them!
Playing the Algorithm
Don't get too excited – no one is playing the algorithm. We're just playing WITH it. It's not the same as playing with a fun and entertaining croupier, but it will do. Especially if you're the type of player that prefers not to actually deal with people, but have become a bit bored with the same old slots, and maybe you feel bad when you beat the dealer and have to look them in the eye?
Whatever your reasons, have we got some of the most amazing 3D realistic card games for you! Blackjack is an ideal game to play in this case because it's simple and you can actually play more than one hand if you'd like – not something that you can pull off in a real-life casino unless you can clone yourself.
If you're used to playing slots and checking that RTP percentage, prepare to be amazed and never go back to slots again: NetEnt's Blackjack RTP is 99.59% when you bet 100$. There. We said it. If that doesn't get you jumping with excitement, we don't know what will! Take a look at their ultra-simple game interface – it's your move! Place your bets and begin.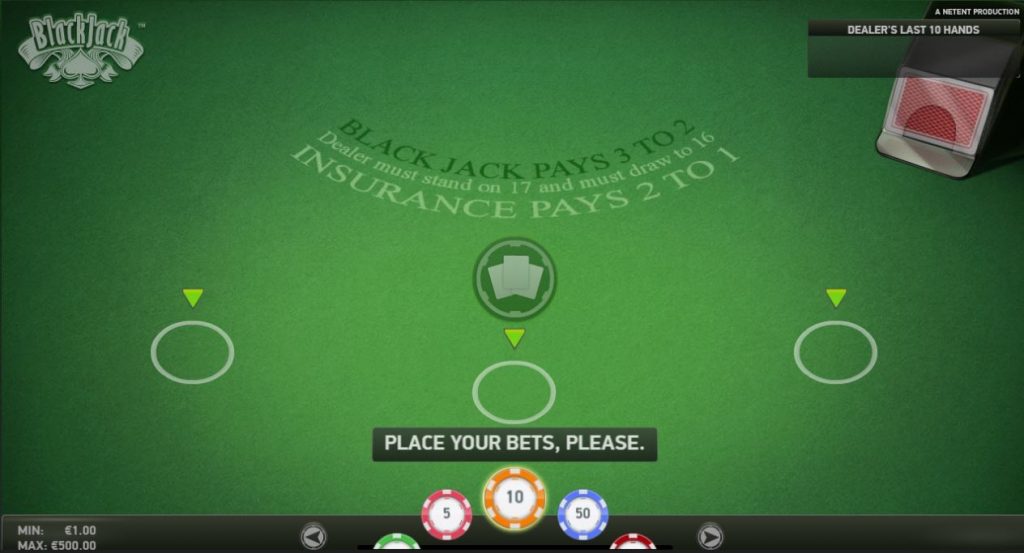 This year, Microgaming partnered with Realistic Games and they double-teamed the release of two amazing 3D games that are meant to make the player feel like they're immersed in the real thing, but without the stress of dealing with other people. This has taken off so well that both Microgaming and Realistic Games are looking forward to more partnerships in the future.
What we're secretly hoping for are some amazing themed 3D blackjack games, with special effects and personalized experiences! We know that it's only a matter of time, and we can wait patiently for just a little while longer.
Best Blackjack Software Providers
Want to play some amazing live blackjack but you're not sure which game you should go with? We have some reviews for you, for some of today's best known live gaming software providers. They are all over the map, as live gaming is probably the most global group entertainment right now.
Evolution Gaming – Evolution Gaming is one of the most famous software providers in the gambling industry. You don't have to look far to play their games, as every casino you encounter is going to have some games provided by Evolution. They are also one of the leaders when it comes to live gaming, and their portfolio includes not only blackjack but roulette, poker, baccarat, and many others.
As you can see, they thought of everything: from a perfect view of the table to a well trained and professional dealer. You can switch camera angles and see the cards easily because of their special for-screen design. And if you beat the dealer, some games let you replay the moment.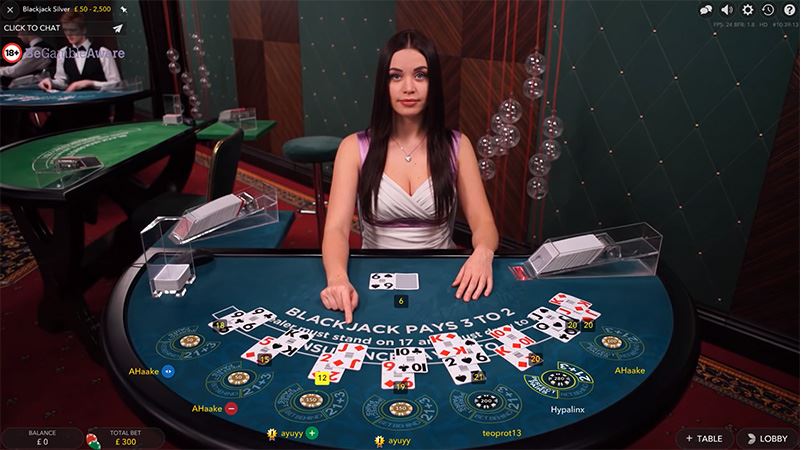 As far as the interface is concerned, don't be afraid of not making your decisions clear to the dealer. In a lot of ways, live gameplay for blackjack is a lot clearer than playing at a real table. Of course, at a real table, you're going to have to use a lot of hand gestures and signs instead of verbal commands – this is because, in case of a dispute, the many cameras will capture exactly what you meant to say by using your hand signals.
When playing live online blackjack games, the situation is a bit different. Of course, no one is going to ask you to use your camera to record your every move – but there are easy to click options that make it easy for you and the dealer to communicate.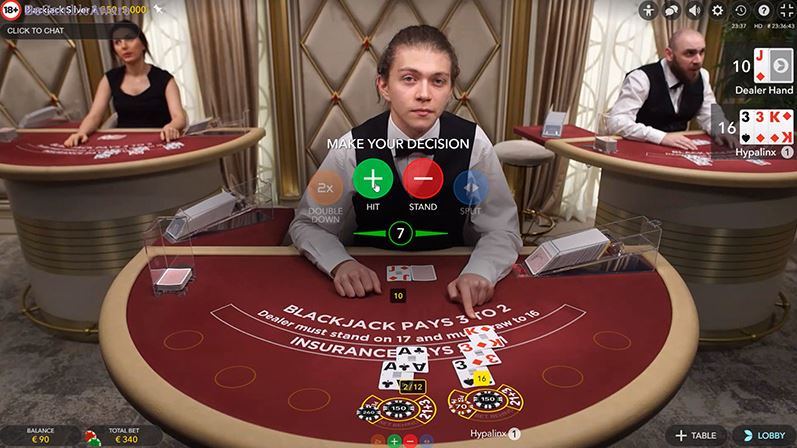 Playtech – Playtech is another household name when it comes to live entertainment. They are one of the top competitors in the market and they are also one of the biggest. They have a lot of resources to play with, and they use them to their advantage in order to make their live casino games stand out from the crowd.
How? Be on the lookout for their brand new augmented reality games. What is augmented reality? Think of Pokemon Go and how popular it was – the trick was in incorporating the game elements into the real world through your mobile device. For example, if you were looking for a rare Pokemon, it would appear in front of you in your living room when you looked through your screen. Imagine the same thing happening when playing games like blackjack!
How incredible and personalized your game will become is yet to be seen – this is cutting edge technology and we are eagerly waiting for it to become the new normal in live gambling.
Playtech is also the leader when it comes to a VIP experience. If you are here to gamble big, Playtech games are your best choice for a personalized VIP experience for playing blackjack. Their Grand Blackjack provides a highly personal experience of a Salle Privee blackjack table, with more perks and more attention focused on you.
Their rules are very clear and the blackjack options are actually better than most live casinos – for example, they use an 8 deck classic shoe, and not an automatic card shuffle machine.
How Does Live Online Blackjack Work?
Live gaming is a perfect combination of both online 3D blackjack and a live table game. In fact, we think they took the best of both of these styles of playing and put them together, so the game is very user-oriented, easy, and intuitive.
It's probably the best option for beginners who are a bit shy about joining a table in a real-life casino because they don't like asking for help!
It's foolproof – the rules are always very clearly stated in each live blackjack game. You'll find it easy to see the rules of the game. Look for:
When the game is available. Most are 24/7, but some may be available only at certain times
How many players per table
If you can split Aces
If insurance is offered
If any side bets are offered
When the dealer is required to stand (usually it's at 17)
How many decks in a game
If the dealer uses a shoe or an automatic card shuffling machine
When you can double your cards
If you can double after a split
Any other special house rules
Minimum bets
Of course, this is all information available to you at any walk-in casino, but sometimes you feel like a nuisance and a newbie when you look for it or ask the dealer about all the minute details. Live gambling online allows you to read the rules at your own pace.
You get prompts. The directions about any decision you need to make will pop up on the screen, usually in large format and plain text. So the stress associated with "when should I bet" or "why is everyone staring at me, is it my turn to do something" is basically nonexistent here.
You see more of the action – there are many camera angles to choose from in live online blackjack, and you can manipulate your game view in order to see more of the game. Some of these angles would be pretty difficult to achieve when sitting at a blackjack table in a brick-and-mortar casino, or they would at least get you some funny looks!
You still get personal attention – in every live casino game, there is a live chat box where you are welcome to talk to the dealer. They will read your comments and respond to any questions or friendly banter.
Basic Blackjack Rules
Online blackjack and real-life blackjack have the same basic rules and the same basic variations. The beauty behind this game is that it's so easy to play that you can learn it in a few minutes, and then spend the rest of your time at the casino on perfecting your game.
The basic rules of blackjack are easy:
Your goal is to get 21, or as close to 21 as you can get without going "bust", or over.
While getting as close to 21 as possible, you have to beat the dealer- if you get 19 and the dealer gets 18, you win – but if the dealer gets even closer to the coveted 21, you will lose.
A natural blackjack happens when you get an ace and a 10 card (which can be any face card or a 10)
You request another card with the words "hit me" and a clear knock on the table – hand gestures are very important in brick-and-mortar casinos because your every move gets recorded in case of a dispute. Hand gestures are pretty much bulletproof.
You "stand" and hold off on any more cards by holding an open palm in front of your cards. This way the dealer knows you stand with your existing cards.
That's it – if you want to play a few rounds, this is all you need to know. Of course, once you are comfortable with these rules you will probably want to work on side bets, card splitting, and developing a sound strategy.
This is what's great about blackjack – it's perfect for every level of player, and the more you know the better your chances are at deciding your next move.
Variations of Blackjack
Blackjack isn't as crazy and varied as poker can be, but it has a dew main variations that people should be aware of. There are certain constant rules that never change – get as close to 21 as possible, and always beat the dealer.
Double Attack – if you have ever been to Atlantic City, you might have seen this variation of blackjack. It uses a deck without any 10s, resulting in a total of 48 cards. The player can double his bet after seeing the dealer's "up" card. You also have an option of a special side bet – if the dealer busts with three cards, and it's called a "bust it" bet.
Double Exposure – in this variation, the dealer's cards are both face-up. Don't get too excited about it – in Double Exposure, the dealer always wins on a draw, to even out the odds. Also, a natural pays even money.
Pontoon – this is a popular blackjack variation in Australia. There are a lot of Australian casinos out there, so there's a chance you'll encounter it online at some point. Give it a try! They have a number of special pay outs that are based on winning card combinations and some other fun factors:
If a bet that equals 21 has specifically five cards, it pays out 3:2
If a bet that equals 21 has specifically six cards, it pays out 2:1
678 or 777 combinations always pay out big:
Mixed suits pays 3:2
Same suit pays 2:1
Spades pays 3:1
If you get 777 from the same suit and the dealer has a 7 that's showing, you get:
Bonus 1000$ on bets less than $25
Bonus $5000 on bets more than $25
Some of the rules for Pontoon might vary depending on the online casino, or the software developer that supplies the game. In land-based casinos, these rules are usually kept the same.
Spanish 21 – Blackjack is first mentioned in a Spanish novel by Cervantez, and the Spanish 21 is still a very popular blackjack variation. Spanish 21 has no 10s, only "face cards", making it a 48 card deck. The player always wins a natural blackjack (instead of a push if it's a tie with the dealer). You can re-split aces and double down after splitting.
The variation of blackjack closest to Spanish 21 is the Australian Pontoon.
Basic Strategy and Why You Should Use It?
There is a strategy for playing blackjack, and it's not based on luck or gut feelings but hard cold math and computer simulations. After all – probability is a part of math, and if you keep to this basic strategy you are less likely to lose a hand.
Basic strategy isn't a philosophy: you can actually get a cheat sheet with the basic strategy printed on it – it will describe every risky move and the right strategy for it – like when to split pairs, split a double after split, when to hit and when to stand depending on what the dealer is showing. Yes, there are mathematical and probable best moves in all of those cases.
Is using a "cheat sheet" allowed? Absolutely! In fact, most real-life casinos actually sell these helpful little pieces of paper in their gift stores, along with their refrigerator magnets, postcards, t-shirts, and other casino swag. In order to beat the dealer, you have to employ a strategy – remember that dealers follow house rules too!
We have created our own basic strategy sheet for you to use right here! You can use it as an educational tool, or to look over and get familiar with the different strategies
It might seem like a bit much for now – don't worry. If you're using it on a regular basis then you'll find that you'll start remembering these best blackjack practices and you'll "feel" the basic strategy.

Does Using Basic Strategy Work in Online Blackjack?
This is a great question, we're so glad you asked!
In a game of live online blackjack, the rules are basically the same as for a real-life casino game. When you're playing with a live dealer – you'll clearly see that they're using a shoe, the same way as any brick-and-mortar dealer would in a game of blackjack.
But when it comes to a non-live game of blackjack that you play in a 3D game mode – things get a little different. The game uses an "infinite shoe" and it's not only impossible to count cards, but does it pay off to use the basic strategy guide? The consensus answer among the pros is a resounding "yes". This is because the basic strategy is based on one draw, and doesn't take history into account as card counting does.
Card Counting Tricks – Can You Do It?
Speaking of card counting – how DO you memorize every card in the deck in order to get an edge on the game. The disappointing answer is: you can't do that. It's impossible. What you CAN do, is employ one of a few clever strategies in order to best guess what cards are coming up, and what type of wager is best in a particular moment, even if the basic strategy guide is telling you otherwise.
In fact, if players make risky decisions but always seem to win tend to get a lot of attention from casino management. Sometimes it is just luck – but casinos are on the lookout for card counters. Card counting isn't illegal. But casinos just don't seem to like it. And who can blame them? It definitely turns their house edge on its head and helps you beat the dealer every time!
There are several methods of counting cards. They all take the knowledge and a lot of practice. One of the most popular ones is the hi-lo system.
To use it, a player must assign a value to every card. After you do that, you need to concentrate, because you need to keep a running count of the cards as they are dealt with. This can become tricky if there are 7 people at the table! As you count, you'll get a more accurate count of what remains in the deck. By the end of the shoe, you can really go all out!
Cards with a value of 2-6 are equal to 1 point
Cards with a value of 7-9 are 0 points
Cards with a value of 10 (including the ace) are -1 point
Now, all you have to do it keep a running tally. The good news is that it will never get too complicated – the numbers ar simple to add. This is the beauty of this system. But what do you do with that total?
Your "true count" will rise and fall – and you have to adjust your bets accordingly. Generally, players will increase their bets if the running true count increases. This involves things like bankroll management and will leave inexperienced or casual players in the dust.
As always, we recommend sticking to the basic strategy – it's your best bet.
MIT Blackjack Team
A few more words on the lore of card counting – you might have seen the movie "Bringing Down the House" – or read the New York Times best-selling book. It's actually based on the true story of MIT and Harvard students and graduates who created a card-counting operation that lasted for years.
The movie might have a lot of fictional embellishments, but the true story behind it is not too far off from the Hollywood drama. Spanning over a decade, the MIT Blackjack Team used card counting strategies to beat casinos around the world. The trick is – they did it legally because card counting isn't illegal. Of course, by the time they were finished, most players were banned or blacklisted in most casinos. With their sharp minds and math skills, it was easy for them to beat the dealer.
If you're still curious about card counting, here is a quick run-through by Mike Aponte – one of the MIT Blackjack Team's members, and a professional blackjack player.
Where to Practice Playing Blackjack for Free
If you're still too shy to just dive in and put your money down, there are plenty of places where you can practice your blackjack skills for free. When you open a casino account in any online casino, you will get a welcome bonus in the form of free cash.
And then there's the ultimate bonus – the first deposit bonus. Casinos are competitive, especially online. Giving gamblers a lot of perks is a classic strategy for any casino – even a land-based one. In fact, a lot of casinos, especially ones in close proximity to each other – like in Las Vegas – will try to outdo themselves with meal specials, buffets, free drinks, special ladies' nights, and anything else they can possibly think of only to get you through the door.
Online casinos have their ways too – and this is how the first deposit bonus was born. When you make a deposit into your casino account and are ready to play some exciting games, the casino will match your deposit 100%, 200% or even 300%. Look at the casinos on our list and see who has the best bonuses of the day!
You can practice playing blackjack for your free bonus money, or if you prefer, you can visit a developer site like NetEnt's and practice their free plays. Of course, unless you sign up for a casino account and actually play for real money, there is zero chance of winning this easy game!