Roulette Games
When you walk into a casino and go past all the slot machines, you'll most likely see a lot of table games. If you're a beginner, they might intimidate you a bit – but don't let that put you off. Roulette is a fun game, and you can find a low buy-in table at almost any casino. Of course, if you want to play Roulette at a low buy-in price, the best places to go to are large casinos and online casinos. Why?
Casino of the Month
18+ Gamble Responsibly | T&C Apply.
Best online casinos 2021
The fact is – Roulette tables are quite big. Any land-based casino will try to manage their space as well as they can, and in a lot of cases, it's simply not worth it to have a large number of Roulette tables or other table games. You simply won't get as much choice as in an online casino, where your options are much better. If you're a brick-and-mortar casino and you only have enough room for two large Roulette tables, chances are that you're going to want them to be posh and expensive so they "pay for themselves". No room for beginners and cheapskates here.
We'd love to show you how to approach Roulette without stress and without having to go to the high-roller tables. It's an incredibly fun and entertaining game and we are very excited to get new players to become passionate about it.
How Did Roulette Become So Popular?
Roulette is fun because of a lot of factors – you can bet high, low, safe or take your chances. It's also a bit of a spectator sport. There are the gamblers, but usually, they have their friends around them cheering them on, or simply passers-by who are curious about the game. In fact, when you enter a brick-and-mortar casino, you'll see where the Roulette tables are almost right away, because of the gathered crowds. Roulette, it seems, is almost as exciting to watch as it is to play.
Although it has a lot of nuances that take some time to learn, you can start playing without much knowledge. A beginner doesn't have to get involved in complicated systems or strategies – all it takes is a few rules.
Watching a Roulette wheel spin is a bit like watching a horse race play out. Completely calm people lose their minds and start to cheer the ball on with excitement. If you're usually subdued and tranquil, you may discover a new part of yourself when playing Roulette games.
Roulette in Casinos
Real-life
Real-life casinos tend to have a small choice of good Roulette games. Depending on where in the world you are, they will be predominantly European or American Roulette games, and sometimes, if a casino is large – they'll offer both styles of Roulette.
Like we said before, the biggest hindrance in real-life casinos is the space they can give to table games like Roulette. Roulette tables are pretty big, and you have to account for the crowd that loves to gather around them. You can't just squeeze Roulette tables close to each other – the spectators will crowd the players too much.
This is why if you go to a real casino, the VIP lounge is probably your key to having the best Roulette experience simply because you'll get a room to yourself – and this means a lot of space and attention. Of course, in order to get to a VIP Roulette game, you'll need to put down a lot of money.
Some Roulette tables are very approachable, however. If you're in a place that's completely full of casinos that have to compete for attention, like Reno or Las Vegas – the tables can range anywhere from 5$ to 100$. You get your choice. You can also check where you can get the best chances at winning. Did you know that the house edge in Roulette varies from casino to casino?
Some casinos will offer the French or European Roulette (with a lower house edge) only to players who will bid more per turn, or can pay the higher buy-in. The lower buy-in tables with a higher house edge will be American Roulette only. And with two zero pockets, the casino will still get it's money's worth.
Online Roulette
Online Roulette embodies a lot of concepts at once. In an online casino, you can be both social and completely anonymous at the same time. You can also have your choice of multiple casinos at the same time, and compare which live Roulette option they have without ever leaving your couch.
What are your choices in playing Roulette online? First of all, you can pick and choose from a variety of professionally trained croupiers, who are experts at entertaining you through the live system of cameras and software. Today, the software options for live Roulette are state of the art and game developers are constantly making updates and working to make them faster, crisper and to feature more special effects.
3D special effects are something that you won't find at a brick-and-mortar casino. A good example of this is Immersive Roulette that has been developed by Evolution Gaming – one of the leading casino software developers who's cutting edge live gameplay is like nothing you've ever seen.
Immersive Roulette game has gone all the way and like the name implies – completely immersed you in the experience. A lot of people agree that this type of online Roulette is actually better than the "real thing" – you get involved in the game a lot more and you can experience it from a lot of different angles.
Online Roulette Advantages
In fact, there are as many as 30 different camera angles where you can observe all the different aspects of the game!
Unlike a brick-and-mortar casino, you have your choice of croupiers who can speak in many different languages, and the different Roulette games are run by native speakers in Arabic, Spanish, French, and many other languages. If you prefer to play in Arabic, French, or any other language, see if your online casino offers live Roulette in that language.
In most real-life casinos, you'll get a limited choice of the type of Roulette you can play – this is because of physical limits. Let's face it- you can only fit so many tables in one casino, and usually, most of the space is taken up by profitable slot machines, and the Roulette choices can be sparse. Of course, casinos like to manipulate the house edge a bit and make European Roulette a high stakes game and American Roulette the cheaper option. So – the game with better odds is more expensive to play, and the game with worse odds is cheap. In an online casino, the sky is the limit. You can choose from a very wide variety of different types of Roulette games, including American Roulette, European Roulette, all levels of betting levels and buy-ins. This can be a wonderful chance to not only play in your language but to choose any type of Roulette and buy-in that you want!
Other amazing visual effects may include stuff like replaying your wins in slow motion – just thing – you can watch yourself win and relive the experience and glory.
All the live Roulette software is meant for high definition and for mobile gaming. If you're playing on your tablet or mobile device, you won't lose a second of gameplay, and you'll be able to see everything in stunning detail.
Roulette Destinations
There are a lot of places where you can play Roulette games, both online and in person. Have you always dreamed about what playing a Roulette game feels like in real life? It might not be as versatile as online Roulette, and you might have to spend more to join a table, but it might be amazing once in a lifetime experience. Here are some of the top destinations if you want to play Roulette in a brick-and-mortar casino:
Las Vegas
Las Vegas is an almost mythical gambling destination, with amazing resort hotel casinos fighting for your attention. When it comes to roulette, there are a few things to know about this destination: the cheapest buy-ins are at the MGM Grand. This is the biggest resort casino in the USA, and it has the floor space to accommodate more tables than most casinos. Their buy-ins are usually 25$. The Tropicana offers Double Ball Roulette, which is a great way to add variety and try something new.
Aruba
Aruba is an amazing Caribbean island that is used to an onslaught of tourists – it has 12 casino hotels to choose from, and they have a wide variety of casino games to choose from. As far as Roulette is concerned, the most popular style of playing is the American Roulette, with two zero pockets. The good news is that the buy-ins are much cheaper than in the US, with 5$ being the norm, and some casinos (like Seaport Casino) going as low as $2.
Monte Carlo
Get ready for the big time. Monte Carlo is famous for upscale gambling, and there is nothing as thrilling and high-class than a game of French Roulette in Monaco. Think about it – in addition to the croupier, you have a "master of ceremonies" as well. Everything about Monte Carlo drips with opulence and class – from the decor to the highly trained staff and the way they make you feel.
Have a look at how the high rollers do it in this video – maybe you'll get inspired and book a plane ticket as soon as you can:
Niagara Falls
Niagara falls might not sound like a gambling destination – people tend to think about the splendor of nature rather than casinos. But if you happen to be on the Canadian side of the border, you're going to find yourself in one of the most popular gambling areas in the country. One of the most spectacular casinos here is the Fallsview Casino, which offers unmatched views of the thundering falls. They also offer a number of Roulette tables – which is rare in Canada, as most casinos concentrate on slots and Blackjack.
The Roulette Wheel
The wheel is what makes the game of Roulette so special. No other casino table game has such a complicated apparatus, with so much myth and history behind it. Did you know that the invention of the Roulette wheel has very noble roots? It is said to have been created as a byproduct of making a perpetual motion machine – by none other than Blaise Pascal. You may also know this gentleman from math class – he is well known for Pascal's triangle, laying the foundation for the probability theory, and inventing an early form of a digital calculator. What they probably didn't tell you, is that he also invented the Roulette wheel.
Anatomy of the Wheel
Pascal didn't actually invent the game itself – just the mechanism that was used to later power what became the roulette wheel. His objective was to invent something that created no friction when spun – and although it's impossible to make perpetual motion this way, it made for a very smooth and long-spinning wheel indeed. The wheel is made up of two parts – the bowl and the wheelhead. Of course, there are state of the art Roulette wheels, and the cheaper kinds of Roulette wheels. You will find the beautiful solid wood Roulette wheels in fancy VIP lounges, while you might find the slightly cheaper ones in smaller casinos at the 5 dollar tables. They should have ball bearings in order to make for a smooth uninterrupted spin. The more modern roulette wheels have a shallower lip in the ball track (the part of the wheel where the ball is rolling around with the help of centrifugal force) and will bounce around more once the centrifugal force is gone – this makes predicting which pocket the ball will stop at a lot more difficult.
Roulette Rules
Let's buy some chips and start playing! But first, let's go over some basics – you may be surprised how many options you have to choose from when playing roulette! This is definitely a game where you can make a lot of your own choices, unlike games like Baccarat. Here are some basic rules of the game:
How to Bet in Roulette Games
The roulette table is complicated, and there are a lot of ways that you can bet, and they all have different odds. You see, there is no better game when it comes to picking what odds you'd like to gamble with – it's very much like setting your own terms. Are you feeling lucky today?
First, pick how much money you'd like to bet. The next question – where to place your bet? It might seem confusing at first – there are different colors, different areas of the table and the game is carefully timed. Here is the game in a nutshell:
The table is divided into outside bets and inside bets. Let's go through the basics of betting on inside bets and outside bets:
Inside bets
Straight up – When you make a "straight-up" bet, it means you're betting on one of the inside numbers. These are the numbers on the inside of the gaming table, and every number represents one of the numbered pockets on the Roulette wheel. Of course, your odds are slightly better here when you play European Roulette.
Split bet – When you put your chip on a line between two numbers and hope that one of them will be the lucky one.
The Street – This is when you wager on a whole line of 3 numbers – you can make this bet by placing your chip on the last number in the line – half on the number and half outside. You increase your chances of winning greatly, but you decrease your payout.
The Corner – This type of bet is made when you decide to place your chip in the "crossroads" of 4 different numbers.
Trio – The trio is when you place your chip on the "0" space – on top of the board, but so that it also covers two other numbers – either a 1, 2, or 3.
Six line – This is when you make a "street" bet, but split your chip between two streets – in effect, it's a split street bet and you bet on 6 numbers at once.
Outside bets
There are three sections on the Roulette table for outside bets. Some beginners like to make outside bets first because the odds of winning are much better. They are mostly two-sided (red or black) or involve betting on a larger group of numbers. Let's take a look at how they work:
Black or white – Or, Rouge ou Noir. This is a simple bet – and you can place it by putting your chip on the designated red or black field in the outside section of the Roulette table. It's like calling "heads or tails", and the gods are the same.
Odd or even – This is another half/half bet – you can bet on either odd or even numbers. Again, there is a designated spot on the gambling table for placing odd or even bets. Of course in this case, zero is never a winning number .
High or low bets – 1 to 18 is low and 1 through 19 is high – this is just another way to divide the numbers in Rulette in order to make a 1:1 bet.
Dozen Bets – If you look at the board, the inside numbers are divided into three columns that extend to the outside, and are marked 1st 12, 2nd 12 and 3rd 12. You can bet on the numbers inside of these columns by placing your chips on the area that is thus marked.
Column bets – Finally, when you look at the very far right-hand side of the Roulette table, you will see that the numbers are also divided into three long columns that are marked 2:1. This will result on a bet placed on 1/3 of the numbers.
As you can see, there are many ways to bet in Roulette – you don't have to bet on one number, and you can control what odds you'd like to play with depending on how lucky you feel, or if you just want to experiment a bit.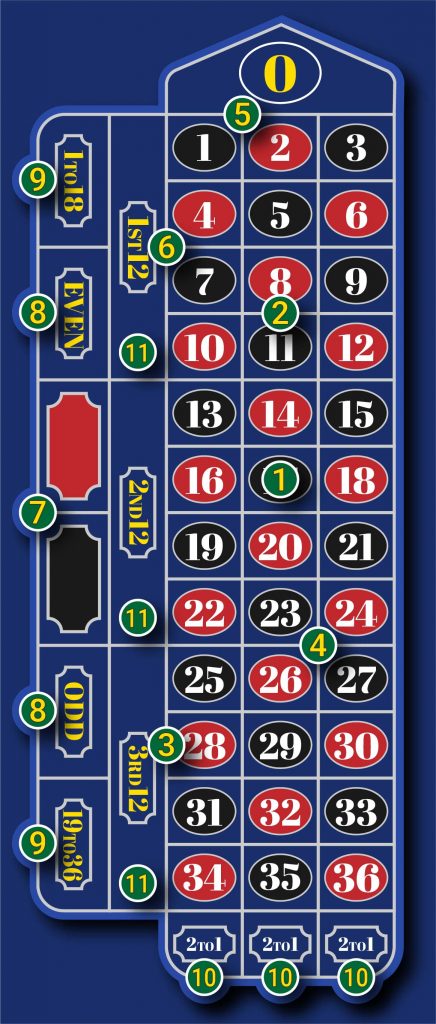 Different Betting Systems in Roulette
Even when we are playing a game of chance, we love to feel like we're in charge. Or at least, we like to feel like there is a system to the chaos. This is why there are different types of betting systems – it's to keep you disciplined as a gambler, and to help you walk away from your losses (if you happen to lose). Betting systems are also a part of a philosophy that keeps the game straight – if you were to wonder about your every single move you'd go crazy and you'd stall the game. Especially when it comes to a more complicated game like Roulette. Here are a few of the most popular betting systems that players like to use when playing Roulette. They are perfect for beginners of online Roulette too! Get ready to be enlightened:
Fibonacci
Let's start with the Fibonacci betting system. You may have heard the word before, perhaps in a different context than gambling. This is because Leonardo Pisano, also called Fibonacci, was a medieval mathematician who worked on and translated Indian and Arabian mathematics – which were cutting edge in his time. He published his works in Europe in 1202 and dabbled in geometry, algebra, and many other forms of math. Perhaps we know him best because of the Fibonacci sequence – or what some people call the "golden ratio". So what is the system for placing bets that has such a noble lineage? And what are the rules?
Rules – First, pick a "unit". This might be 2$ or 5$ – or even 20$. Remember, you want to make your game last as long as you can, so don't wager all your money at once. The Fibonacci sequence works like this: Fn = Fn-1 + Fn-2
So, if you bet a 1 unit, your bet will go something like this: 1,1,2,3,5,8,13,21,34 and so on. This might seem a sure way to lose money. But there's a method to the madness – after all, if you win once, you will gain back the ground you lost. You just better make sure you have a big pile of cash before you win it back. This is not our favorite system because it has a tendency to go through a lot of money very quickly – and if you have a losing streak, you're just out of luck and a lot of cash.
Pros
Easy
Potentially huge wins
Big adrenaline rush
Cons
Ever-increasing amounts
Potentially huge losses
Paroli
This is a very safe way of betting – at least it feels safe when you're doing it. Here, you double your bet after every win. This way, you double your bet after you feel good about just having won. This is called progressive betting, and it's a long tried method of betting. In fact, it's over 100 years old. Because of its venerable age, it's the longest studied betting system in the world. It originated in Monte Carlo – a place famous for Roulette. The Paroli system has a "reverse" counterpart – the Martingale system, which we will talk about later. This is why the Paroli is often called the Reverse Martingale.
Rules – There are a few basic rules to stick with the Paroli System.
Double your bet after each win
Place a "flat bet" after each loss
Stop raising your bet after you win 3 times in succession
Go back to your 'base stake' after 3 wins
Pros
Simple
Uses wins to wager
Minimizes losses
Cons
Goes through your bankroll at a fast pace
Short term strategy
Labouchere
In this system, we keep a careful tally of our wins and losses and involves some serious counting.
Rules – First, we decide how much money we want to win – reasonably speaking. Then, write down a list of numbers that will add up to that winning amount. Write these numbers in a long line, and as you bet, do it for the amount of money that is equal to some of the first and last number on the list. If you win, then you can cross these numbers off the list.
This system is designed especially for roulette – so if you think it's confusing, you may need to read up on the rules more. It's not a good choice for beginners, because you'd need to learn everything at once, and not have a lot of attention span left to actually enjoy the game. But not to worry – you can download a Labouchere app on your mobile device -there are dozens of game system calculators, roulette trackers and easy systems available.
Pros
You can make a profit when you lose more bets than you win
Good betting management
Playing even money makes the winning potential huge if you get lucky
Makes you feel in control
Apps available
Cons
Not a guaranteed win
Difficult for beginners
Martingale
The Martingale is probably one of the oldest betting systems out there today. It is simple, although it might seem counterintuitive at first. The philosophy is to "turn your cheek" and bet more after a loss. In Roulette, it's best to bet only on even-money outside bets because they have the best odds, but the payout is 1:1. This is considered a very "safe" bet.
Rules – Start with a small initial bet, usually the table minimum. Double your bet every time you lose.
Pros
It will help you win in the short run
It will make a win compensate for your losses
Cons
You can run out of money quickly
It's not a good long-term strategy
If you don't have enough cash to last through a losing streak, you stand to lose a lot of money
James Bond
Yes – of course, this is a gambling strategy – after all, the first James Bond book is called the Casino Royale and we seem to always catch 007 in a casino. Some of the most important scenes in every movie take place at a posh VIP gambling table where an extremely large amount of money and intrigue is exchanged. Sometimes it's Poker, sometimes it's Roulette. You know – the big boys of casino games. The James Bond Roulette strategy ensures that you will have 25 possible winning numbers and 12 losing numbers.
Rules – 14$ (Or whatever your currency is – 007 gambled with GBP, of course.) on 19 – 36. Bet $5 on the Double Line bet 13 through 18. Bet 1$ on 0. You can combine this with a progressive betting strategy, although this is mostly a flat betting system.
Pros
Gives you good odds
Keeps the game flow steady
67.6% chance of winning
Cons
Still does not overcome the house edge
You can bet (and lose) a lot of money in one go
For your viewing pleasure, here are the best casino scenes from all the James Bond movies, to get you in the mood:
https://www.youtube.com/watch?v=6q6-9rd6-W8
D'Alembert
This betting system is a lot like the Martingale, but a lot more down to earth. You don't double your bet – but instead, you raise it by one. This is great for people who don't like to jump in feet first but go one toe at a time. This is why this is one of the most popular gaming systems – a lot of people believe that slow and steady wins the race. Especially if you're here for the joy of the game and you want to make your cash last as long as possible without any exorbitant bets.
Rules – Set a base bet, like with all the other systems. After that, you need to figure out what your "unit" is. For a lot of people, it will be 1$ or the equivalent. For others, it might be 5$. This is the unit that you will use to increase your bet after a loss. You will need to decrease your bet by one unit after a win.
Pros
This is a slow and steady technique
It lets you control the units, so you can bet what you're comfortable with
It helps you t even out your wins
Cons
If you set your unit too high, you stand to lose a lot of money after a few losses
It doesn't overtake the house edge – none of the systems do
It will result in big losses if you hit a serious losing streak
House Edge
Depending on the type of Roulette you're playing, the house gets a different edge. It's important to pay attention to what type of wheel is being used because this will signal the house edge and your odds. There are two main types of Roulette – American, and European. European roulette has one "zero" pocket, while the American version of Roulette has two – one single zero and one double-zero pocket. If your ball lands on a zero pocket you automatically lose. Of course, the odds of losing get a lot higher when there are two "losing pockets", don't they?
The funny thing is, there are aficionados of the American style, although most people consider it the worse type of game to play. This might be because old habits die hard, and people who have always played the American version have trouble switching to something they don't know, even if the difference is minimal. Gamblers are a superstitious bunch, and some may even believe that if they start playing a different version of Roulette, their luck will run out. Which of course – it won't if you're playing with better odds and a lower house edge.
For those of you interested in the actual raw percentages of these two versions, here is the return-to-player schematic for both American Roulette and European Roulette. Take a look and see which one you will pick when you're browsing online casinos!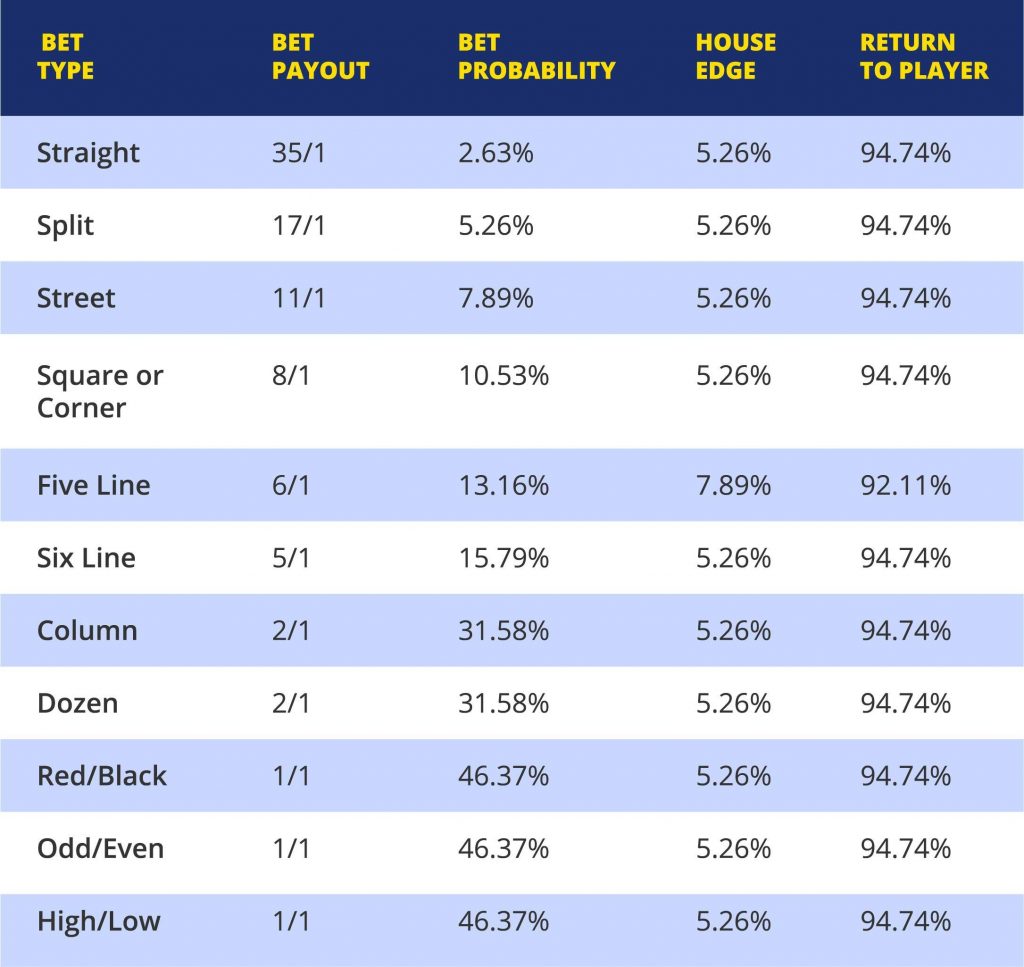 Types of Roulette
There are a few different types of Roulette you can choose from, and here are some explanations based on what is most available to you in online casinos:
Live Dealer Roulette – This is the king of all online Roulette games, because of it's high entertainment value and opportunities to socialize and be part of a real game. This is where the top of the line software developers put most of their efforts.
American Roulette – American Roulette is a lower odds version of the game, with two zero pockets instead of just one. It will be found at the lower stakes tables in a real-life casino and is available at most online casinos as well.
European Roulette – European Roulette is the classic version of the game, with one zero pocket, one ball, and one wheel.
French Roulette – this Roulette game is also popular in online casinos. It's almost identical to the European Roulette, but with some important differences. For example, it's a "kinder" version of Roulette that lets you only lose half of your wager when the ball lands in the zero pocket, and it lets you try to win your bet back if the ball lands on zero when you bet even or odd. Your wagering money gets put "in prison" by the croupier, and you get a second chance at winning next turn. If you lose again, the bet is lost. French Roulette is one of the all-time favorites.
Multi-ball Roulette – this type of Roulette, uses many balls as the name implies. You can place multiple bets and your win is split by the number of balls – and there can be two or three – or even more! While most people prefer the one ball, some like the extra excitement of multiple balls.
Multi-wheel Roulette – Multi-wheel Roulette, just like Multi-ball Roulette, requires some multitasking. You probably will not find this at brick-and-mortar casinos but at online casinos. The software developer that specializes in these kinds of complicated Roulette games is Microgaming, and they can have as many as 8 wheels to a roulette game.