Live Blackjack
Blackjack is the ultimate favorite game in any casino, and when you go online it becomes unstoppable. The problem with brick-and-mortar casinos is that they have limited space. When you walk in, you might see quite a few blackjack tables, but soon discover that none of them are actually to your liking.
One has a super high buy-in, the others are completely full, and they have automatic shuffling machines anyway, with what looks like 10 decks inside. No way! Brick-and-mortar casinos might be fun and social, but they simply do not have the same choice of blackjack games to pick and choose from. (Or any of the games for that matter.)
Casino of the Month
18+ Gamble Responsibly | T&C Apply.
Best online casinos 2021
Playing blackjack online gives you the freedom to explore and concentrate on what you like playing the most. A few people realize how many different versions and variations of blackjack there are until they start to explore online casinos. Some casinos specialize in providing their players with many different table game options. If you want to explore the different and fun versions of this easy game, look for the casinos with the most table game variety.
How is Blackjack Played in a Casino
When you enter a brick-and-mortar casino, you have to decide which table to sit at. There are a few choices available to you, and a lot of things you should keep an eye out for:
The buy-in. Smaller casinos mean smaller choices in blackjack tables. Some will only have a few – and with the table seating arrangements accommodating up to six players, chances are that a casino won't feel like they have to accommodate the crowd that doesn't want to spend 20$ to sit at a table. Especially if they're new to the game. It's ok not to give much incentive to new players if your tables are always full anyway, right? Most newbies like to learn at 5$ tables – this has become a standard.
The more the merrier? Or the luckier? The more people at a table the slower you're going to lose – this is the general consensus amongst players – especially when it comes to giving advice to new players. But being a new player doesn't mean that you have to lose at all. In fact, if you play carefully you might win. The trick to having a full table is – the game goes naturally slower and the speed of each hand decreases. If you feel that you have blackjack basic strategy in your head and can't wait to test it out – this might be an advantage. But if you'd like to take your time, talk to others, and observe the game – a full table is the perfect option for you. This is especially true if you go to a casino to socialize and have fun.
What is the maximum bet? Some people prefer to be high rollers and bet astounding amounts of cash on a blackjack game -but the fact is, most of us prefer not to. However, there are certain rules about betting a lot of money that you should be aware of. The official recommendation is making the maximum bet fifty times the minimum table bet. So at a 5$ minimum table, the maximum bet is often 250$. This is also the recommended amount of money you should have in your pocket to draw out your game and have a good chance at walking away with substantial winnings.
Should I tip the dealer? Yes – at a real-life casino, dealers are often not paid much and depend on tips to get a good wage. But that's only true for a small number of places. Make sure to see what the tipping culture is in the country you're playing at. Our clients often travel to many places and have opportunities to play at a variety of international casinos. Here are some suggestions based on popular gambling destinations:
Las Vegas – 2% to 5% of winnings when you leave the table. In fact, the rules are similar across most casinos in America.
Macau – Although the casino makes a 5% commission when the dealer wins, it is not the local custom to tip the dealer at all, and all the money goes to the house. There is a 10% service fee added to everything.
Reno – If you gamble in Reno, the situation is similar to Vegas – 2% – 5% of your winnings when you depart the table.
Australia – Here, tipping is forbidden because it's seen as a bribe. The dealers are simply paid a living wage.
London – Although it was illegal to tip dealers a while ago, it's legal now. Today, many gamblers "forget" to do it most of the time.
Monaco – This is one of the places where you can tip – but only for good luck. The croupiers in these luxurious casinos are definitely paid well enough.
The Caribbean – There are casinos all over the Caribbean and you should definitely tip here – see how much other players are tipping, depending on where you are. It is customary and helps out the people who work hard at the tables for not-so-perfect pay.
As you can see, there are many subtle things to look for when you wander into a casino. While traveling around and gambling is an incredible and thrilling experience, we know that most gamblers have moved on to the comfortable online casinos where they not only get more choice but very often a better gambling experience.
Live Blackjack vs Video Blackjack
There are two types of blackjack you can play when you sign up for an online casino. Which one is better? It depends on what you're looking for. We think that both are great and very enjoyable, depending on what mood you're in. If you only have a moment to play – be it on your lunch break or while you're on the phone with that boring uncle, then video blackjack is perfect.
Video Blackjack
The reason for this is that the game will open on your mobile device in seconds, you can play a few rounds and then conveniently close the game window. You don't have to deal with anyone other than the game – plus, the great thing is that in modern online casinos, all you need to play is an account.
You don't need to install any software that will have visible icons on your phone or be traceable to you – in instant play casinos, there is none of that. Software developers recognize the player's need for privacy and for convenience, so every generation of online occasions comes up with better solutions to suit your needs.
A little about the pros and cons:
Video blackjack has some great advantages over video blackjack – in a way, they balance each other out. For example, video blackjack offers incredibly low buy-ins. This is because there is no human interaction needed and the casinos can leave the program to do its thing and entertain you.
No need to hire an experienced and entertaining dealer and pay them or pay for maintaining the tables or for the floor space. You can play video blackjack for as low as 1$ per game. In fact, these are so maintenance free that a lot of brick and mortar casinos will have video blackjack machines set up on their casino floor for people to play with.
This solves the problem of having a large table game and a dealer wait on guests but at the same time gives casinos the ability to have at least some blackjack options.
Video blackjack offers a faster rate of play than live blackjack. After all, when playing with people, things tend to take their time. Experienced players have a tendency to click through quickly, making fast choices and bets. This is good if you have a sound strategy – but a bit worse if you're a beginner and make all your decisions based on your "gut". With a strategy in mind, you should expect to win about 48% of your hands in the long run.
The Advantages of Live Blackjack
Live blackjack, and any live casino game for that matter, is something that you should keep your eyes on. This is because live gambling is based on fascinating new technologies and ever-developing trends that make live gambling more fun and exciting.
It's no longer just about being able to see the dealer and interact with them. It's about new stuff like augmented reality (think Pokemon Go), special effects and animations, and being able to watch your live gameplay from many different angles at the same time.
This makes live blackjack more user-friendly than actual blackjack. There are many advantages to playing live blackjack, and a lot of them don't even have anything to do with your odds. (Although your odds are in fact better when playing live – more about that in a minute.)
The obvious advantage is the entertainment factor. If you want to feel like you are getting some human contact – playing live blackjack is the perfect option for you. Game developers that specialize in live games use perfectly trained dealers who will not only guide you through the game but answer your questions and interact with you.
This is so much better than playing an algorithm if you're feeling lonely, in need of seeing a smiling human face, or want to feel like you're in a glamourous casino somewhere in a far-off country. Another advantageous aspect of playing live blackjack is that the dealer is more likely to speak your language.
There a number of native speakers that deal blackjack in Arabic, French, Spanish, and many other languages. This option is also best for those gamblers who feel strange playing video blackjack – after all, isn't it all programmed? How do we know that the cards are truly random?
In live dealer blackjack real decks of cards are used – usually, 6 or 8 decks come into play. The rules and interactions are very much like a brick-and-mortar casino, including the background sounds. Often, the dealer will be situated in a busy studio where other dealers are also playing table games, and the ambiance is that of any Atlantic City or Macau casino. Of course, the biggest difference is that you're playing in your house, car, or even bathtub.
How Did Live Blackjack Evolve?
Blackjack has come a long way since it's beginnings – but do you really know where it comes from? The earliest mention of blackjack comes from a Spanish book by Cervantez – the famed author of Don Quixote who mentioned it in another book in 1570.
There is another game that is thought to be the predecessor of blackjack – trente-un, or "thirty-one". The point of this game was to get 31 points. Some people argue that sometime over the next few hundred years this number got smaller and became twenty-one.
Perhaps it was to make the gameplay shorter and for the house to get more money faster? We'll never know. Blackjack as we know it originated in either Spain or France. In French, it was called vingt-et-un, and it was under this name that it came to the United States and to the saloons of the California Gold Rush.
It is the wild west that made this game very popular, and from there it spilled over to the casinos of the world.
Where are Live Blackjack Studios and Who Are the Dealers?
When you play a live table game like blackjack, do you ever wonder where the dealers actually are? On the outside, the online live blackjack experience is very much like inside a real casino. Why? For one, you never really know what time it is – the game is played in "casino time" – which is like a twilight zone stuck in between worlds. No clocks, no prompts to remind you what time it is and how much time you've spent playing.
You can go online and play live games any time of day or night, and the dealers will be there for you – waiting and smiling. Where are they? They can be anywhere in the world! A great way to check is by seeing who your developer is.
For example, live casino games that were developed by NetEnt will likely be streamed live from Malta. They are always looking for shuffles, international game presenters, or outgoing and fun dealers. NetEnt is a company that won many awards with their Live Casino Solutions, and they are only getting better.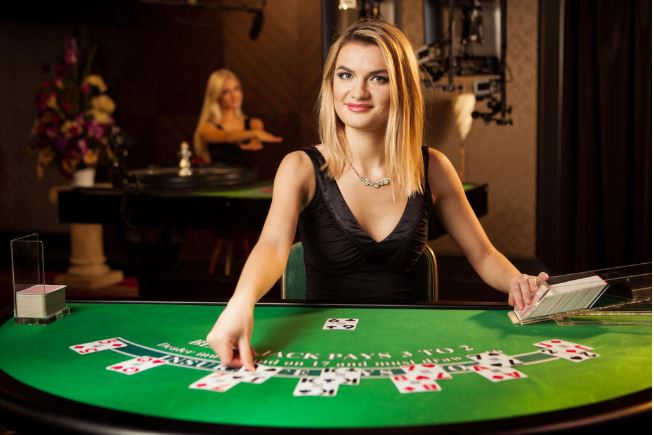 They are releasing new solutions for fun variations like branded casinos (we are still waiting for that Game of Thrones blackjack table – how will they work that one out?) They were also awarded top Live Casino supplier in 2019. Their tech offices are all over the world – Gibraltar, New Jersey, Kraków, and Kyiv. But if you're seeing one of their smiling dealers, you're definitely playing at a blackjack table located in Malta.
If you're playing a live casino game that was made and distributed by Evolution Gaming, you might be surprised at the actual live location of your dealer. Evolution has some of the most diverse choices in live casino games, and they have many variations.
They need a lot of space to host their live blackjack, Caribbean stud poker, immersive roulette, live dream catcher – and many more. Did we mention they offer games in many different languages too? Their trained dealers will be native to many countries and make you feel right at home if you want to speak Turkish, Arabic, Finnish, French – and many others. See if your preferred language is on the list!
At Evolution Gaming, your "game presenter" or live dealer might be in places like Latvia, Belgium, Romania, USA, or Canada.
Different Types of Live Blackjack
We mentioned that there are different types of live blackjack, but how many are there really? We searched online casinos and live game developers for the answer, but there are more variations than we can count, and the different types of live blackjack always seem to surprise us. Here are a few types that we think should be amazing to play, just for a little fun variety:
Speed Blackjack
Speed blackjack has the same rules, but it really ups the tempo of gameplay. It's a race against the other players to see who can bet first. If there are multiple players at a table, as they're usually are, you don't take turns and think about your move. You have to make your decision the fastest in order to be dealt the cards. This adds a lot of speed but also a lot of quick decision making and excitement to the game.
Infinite Blackjack
The keyword here is "infinite" – it's because there is an infinite amount of seats at the live blackjack table, they are famous for low bet limits, and in addition, there are four optional side bets and the Six Card Charlie rule. For those of you who are wondering what that is, it's when you have a very low draw – and get six cards without going bust. Then, you automatically win. This is a tough win though because not many people will take the chance to draw 6 or more cards, because of the increasing probability of going bust.
Any pair – additional bet to cover if the first two cards are a pair. This is a rare rule for live, or any other type of online blackjack.
21+3 – this is a side bet where you bet on whether your first two cards and the dealer's face-up card add up to some poker combinations. It's an interesting mix of two games, and if you aren't sure if you want to play poker or blackjack this might be the perfect side bet for you. You win if you get a "Flush" – three of a kind, three of the same suit, or three same numbers and same suits.
Hot 3 – this is a bet that can be attributed to Evolution Gaming, ever the mavericks of online blackjack. It's similar to 21+3 in that the first two cards in your hand and the dealer's "up" card have to add up to 19 to 21. It's just based on numbers and not poker combinations.
Bust It – here, you bet that the dealer's hand will bust after they flip their face-down card.
As you can probably guess, these side bets are the safest if you're a pretty good card counter. Otherwise, they are risky and don't pay off very often – until they do. But that's gambling, isn't it?
Free Bet Blackjack
This happens to be one of the most popular types of blackjack played in brick-and-mortar casinos. Here, you get a free double down bet on two-card with totals (hard totals only) of 9, 10 or 11. All bets are done automatically, so you don't really need to go chasing after it. There are side bets available in this type of live blackjack, and they're Any Pair, 21+3, Hot 3 and Bust it. What's also very helpful is the 6 Card Charlie Rule.
Power Blackjack
This is part of Evolution Gaming's Infinite range of games that can engage unlimited players. This is a freewheeling game of high stakes since players are allowed to not only double, but triple and quadruple their bet even after they split cards. This might be the perfect option for you if you're feeling incredibly lucky.
Salon Prive
The "private salon" is a space where the VIP players come to bet big. If you're a high roller you know it – this is probably the only place you can gamble with high limits and have the personal attention you deserve and expect. Some casinos let you even choose who the dealer is and when they deal.
Blackjack Party
If you're feeling lonely or bored, come and join the party! Meet new people, mingle, chat – but do so anonymously while playing an amazing game of social blackjack. This game is built to last – and last for a long time. How? It has very low stakes, so your budget will really buy you a lot of time. Time for what? Time to mingle, chat and have fun, of course!
Here, there are a few dealers – or presenters. They will entertain you and chat with you while you play – but that's not all, because while there are seven seats to a blackjack table, anyone can sit behind current players and even bet on their game! This turns into a part really quickly, and it's the perfect solution if you need some human interaction in your life.
Bet Behind – there are some games that allow you to do just what we described in the Blackjack Party – you can sit and wait for a spot at the table, and you can even make bets behind the main player – this is great if you see someone's game is running hot, or if you're too shy and new to make the bet yourself. Sometimes it's better to observe at first and wait your turn.
Live Blackjack Rules Rundown
Before you run off to find the best blackjack table in an online casino, remember these rules. We know that there are multiple blackjack tutorials and cheat sheets, but we want to make sure we don't send you off with no information!
Basic Rules:
The point of blackjack is to get more points than the dealer
You win with the dealer when you get 21 points or lower – and remain with more points than the dealer
First, you place your bet in the circle spot in front of you
You get two initial face-up cards
The dealer gets one face-up card and one face-down card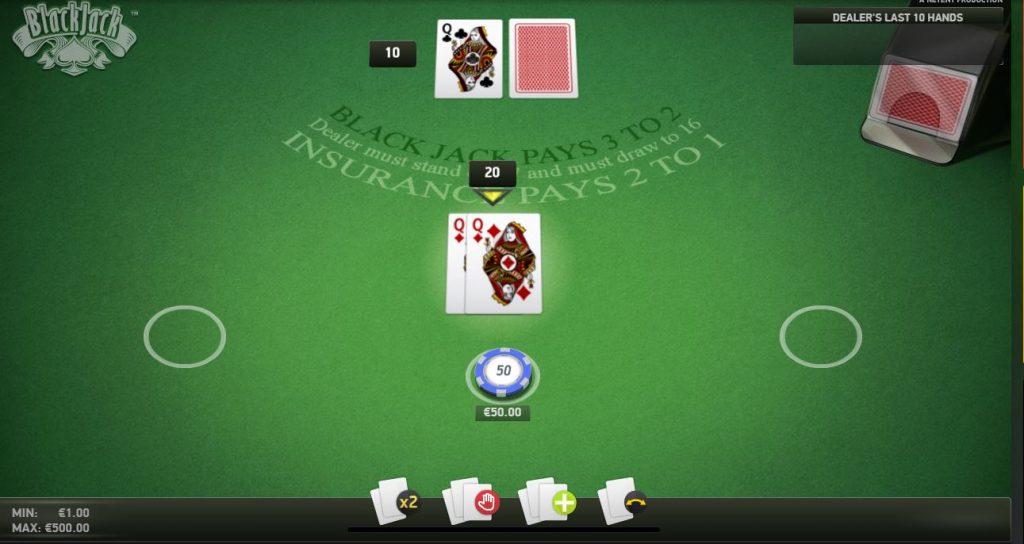 Here, the dealer has one queen, and you have two queens. You have two choices – you can Stand because you have a 20 and the chances are definitely on your side. You can also split your bet, and play two hands with a queen on each side. You can split with double cards. Some blackjack versions let you double your bet at this point.
We decided not to split and stand. Now, the dealer makes their move and uncovers their face-down card. Let's see what happens: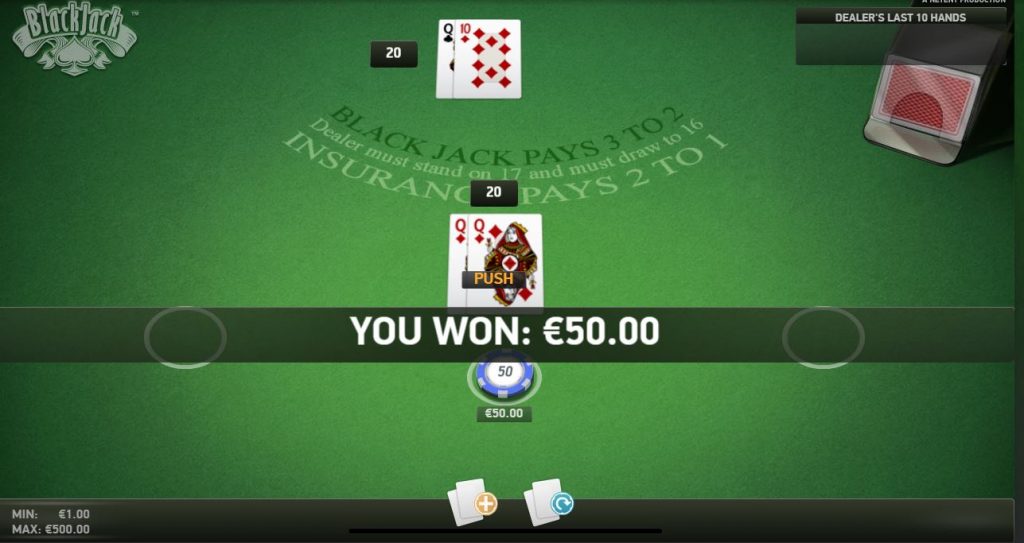 There's some good news and some bad news. We haven't won – but we didn't lose either. Standing turned out to be a perfect choice, because the dealer had a 20. If we split, we would have had to draw 21 in order to win with the dealer. Chances are, that wouldn't have happened. We saved ourselves money, but the hand is a "tie" – or a "push".
Let's play another hand to get a hang of blackjack gameplay – this isn't live blackjack, but NetEnt's video blackjack serves as the perfect practice for beginners. Most online casinos will have this type of video blackjack and it's definitely worth to practice on, whether you're playing "for fun" or with real money.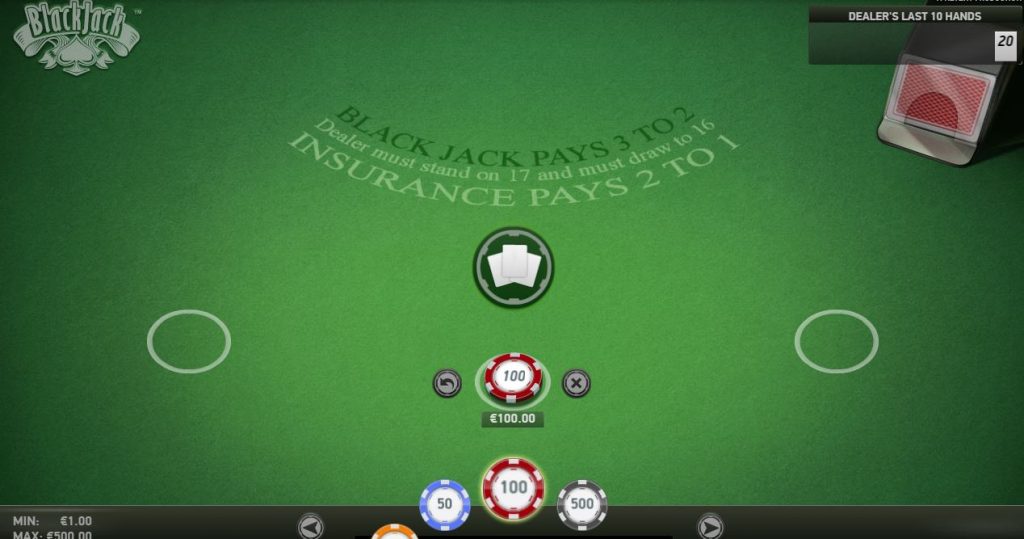 Here, we'll get braver and bet 100 GBP – your currency will often depend on your VPN status.
As we can see, there was no win – the dealer got very lucky and got a natural blackjack. We got two 4s that we could have split, but didn't get the chance to.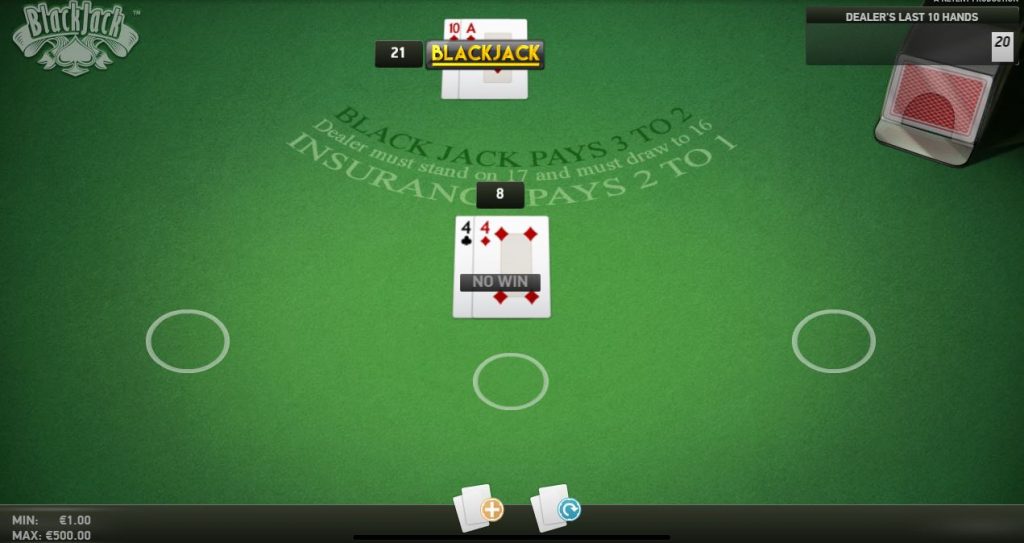 Here is the final example of our third hand
We put down 100 again and decided to battle it out. We won our money back, and we're ready to play another round to see what happens.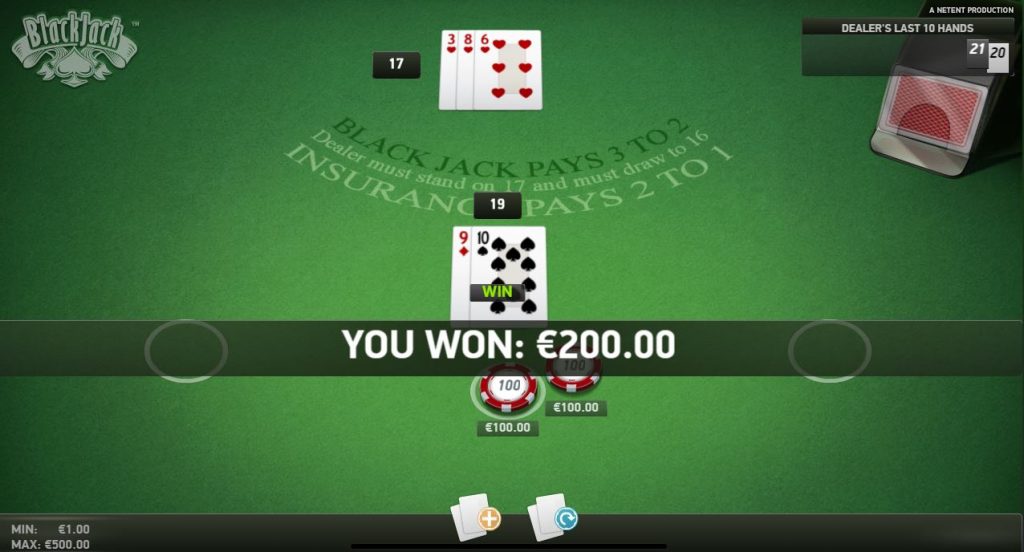 Blackjack is amazing because you can play it for a long time, learn as you go and be social. When you play live blackjack in an online casino, you get the personal attention of a live dealer combined with the clean and methodical gameplay of video blackjack.