Blackjack Game Guide
We have created a "short and sweet" game guide that's perfect for beginners. We love blackjack – it's a thrilling social game that's easy to learn and enjoy playing even if it's your first time in a casino. Blackjack is one of those table games that real-life casinos won't pass on – if they have the room for table games, blackjack is going to be there even though the house edge isn't as favorable to the casino.
Blackjack is famous for the house edge being lower than most other games, which adds to its appeal for any gambler. If you're a fan of slots and considering switching to cards for variety's sake, blackjack is the way to go. You'll be able to enjoy it right from the start, and see that your winnings are more solid than when you spin those reels.
Casino of the Month
18+ Gamble Responsibly | T&C Apply.
Best online casinos 2021
Blackjack Game History
Blackjack has been around longer than you think but under different names. It's first mentioned by none other than Cervantez, the same Spanish author who wrote Don Quixote, in 1605. The game played in his book is veintiuna – or twenty-one. This is, of course, another name for Blackjack. and
May we remind you – this is the time when the gunpowder plot happened in England, the Ottoman Empire ruled, and Shakespeare's Othello was first performed in London. Blackjack has deep roots in the past. The game quickly spread throughout the courts of Europe – remember that back in the 1600s cards were still a bit expensive and often hand made. Poor people tended to gamble with "bones" or dice.
Blackjack journeyed to the new world and became a force during the California Gold Rush and in all the subsequent wild west mining towns. Some of the most colorful and legendary personalities of the time are somehow related to blackjack.
Eventually, the game settled comfortably into casinos and card rooms and is there to this day – whether you want to gamble in Las Vegas, Monte Carlo, Niagara Falls, Macao, or anywhere online.
Playing Blackjack Online
Our guess is that you'd like to play some blackjack online. There's nothing easier! Here are the steps you need to take in order to play this incredibly fun game. First, find yourself a casino! As you can tell, we have plenty of amazing casinos to choose from. We love to gamble, and we only pick from the very best to share with you.
Each online casino is curated a bit differently. Some are geared towards beginners, some will naturally have more options for sports betting and others will have a plethora of table games – live or otherwise. But just about any casino will have all forms of blackjack available. After all, it's one of the most popular games.
Let's take it to step by step. We're going to use NetEnt's Blackjack – the non-live kind for our presentation. NetEnt is one of the top game providers for online casinos, and if you play slots you might recognize their logo. They are everywhere, and their software is some of the best in the world.
Step One – Join a casino. You don't have to pay yet if you just want to browse their options. When you create an account, some games can be tested for free. You can also go to NetEnt's website in order to see what they've been up to as far as game design is concerned. Some casinos have a sign-on bonus where you get "free cash" to play with upon signing up and opening an account without even making a deposit. You can use this money to play games and see which ones you like the most.
Step One and a Half – Make Your First Deposit. If you are sure you want to play for real money and you like the look of a casino, you should make your first deposit and really make it count, because first-time deposits usually get incredible money matching bonuses. Casinos will either match your money or double, triple, or sometimes even quadruple your first deposit! This is why a lot of people put a lot of money down – to get a great return and multiply their playing time by a lot. We call this step "one and a half" because it's not necessary to actually learn and enjoy the game of blackjack.
Step Two – Know the basic rules. Alright – if no one ever told you the rules before, then concentrate:
The point of blackjack is to get as close to 21 points as possible.
You keep on drawing cards from the dealer by saying "hit me" or in a real casino game, knocking on the table in order to get one more card
All face cards are worth 10 points
Aces are worth either 10 or two, depending on what your situation is.
Double aces are 12 points
You have to get more than the dealer while still being 21 and under
You win if you get closer to 21 than the dealer
You can split cards if you get doubles on the first draw
Two aces count as ones – so you either have a 12 or a 2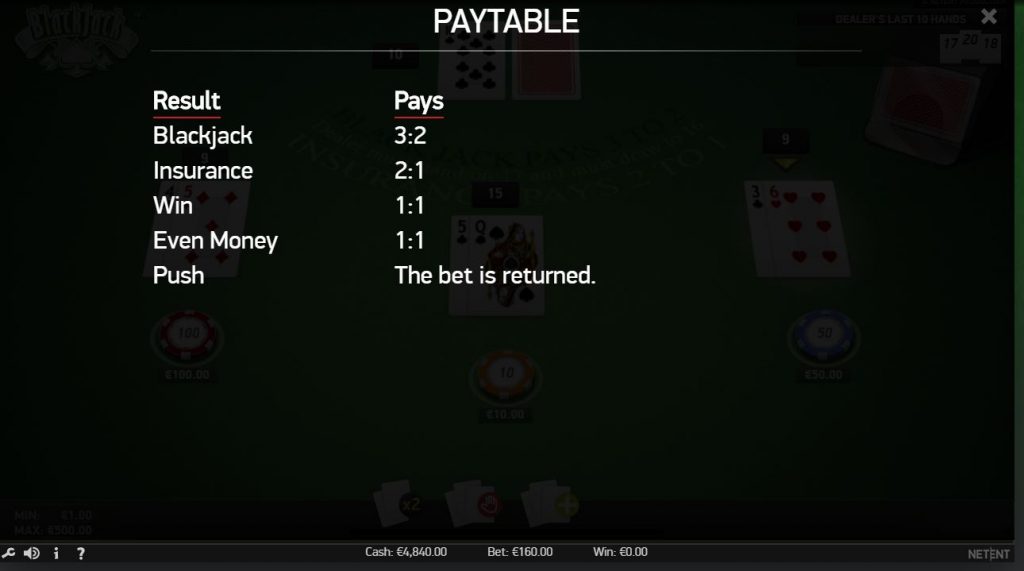 Step Three – Know the table rules. In our example table, the rules are easy. Click on the "i" information icon in order to see what the payable in your game is. Here, it will be explained what blackjack pays, how much insurance pay, how much a win pays and how much Even Money bets pay (although even money is always assumed to be 1:1), and what happens when it's a "tie" or "push".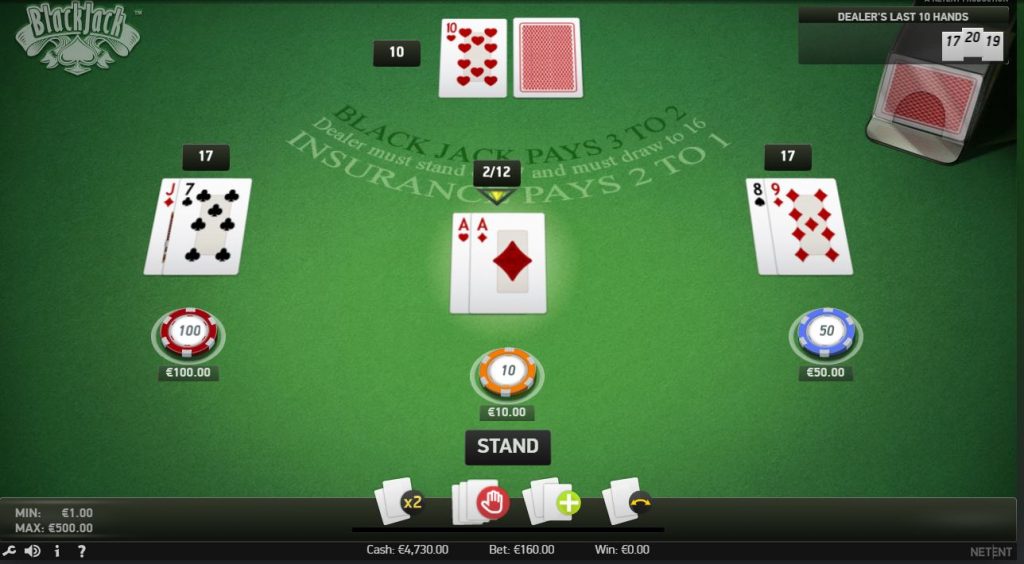 Step Four – begin the game. You will get two cards, to begin with. This is when you decide whether you should take a "hit" or "stand" with what you have, without trying to get closer and risking a "bust" – or going over 21.
Double Aces – Now here is something that doesn't happen every day – and if it does happen to you, consider it your lucky day. This is where you can really show off your decision-making skills and decide if you want to hit it or split it. You have a choice – either count them as a 12 and take a hit or split them and play two hands at once. A lot of people consider this a bad hand because you either have to take a lot of hits to build your numbers up or risk busting when getting a 10 – everyone knows that in blackjack, 12 is a tricky number. Most people agree that splitting aces is the safest way to go. In fact, in blackjack basic strategy splitting aces is almost written in stone. This way, if you win you will win double. Or win some and lose some –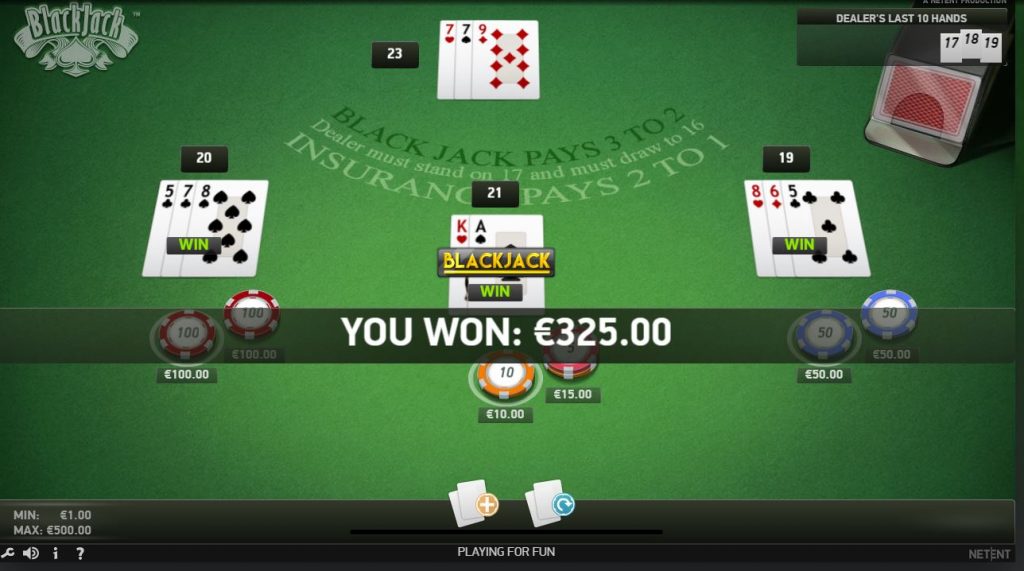 Blackjack – a "blackjack" happens when you get an ace and a face card. Below is a great example of us getting lucky! Too bad we only had 10 Euros down on the middle hand! This way, 15 Euros was paid out. If the wager was 100 Euros, we would have gotten 150 Euros.
This is a great time to point out that you should be on the lookout for the maximum bet – a lot of casinos, online blackjack games, or any online and "real life" casino games for that matter have a maximum bet. Even one of the most famous winners in roulette history – Ashley Revell – had to make special arrangements to gamble his $135,000 on a single spin. This usually never happens, and all tables have their maximum bet as well as a minimum bet.
Going "bust" – this is when you actually lose because you got a bit ahead of yourself and decided to hit when your score was high – or things just took an unlucky turn. It's okay – it happens even to the best of us. Notice how unlucky the player on the left was – here, they kept on drawing very low cards – until they finally hit a queen! Their mistake was hitting on a 17 which is always a risky thing to do. Of course, there always is a chance that you will draw the perfect card – that's gambling!
Play Live With the Best Dealers in the Business
The amazing thing about blackjack is that you don't have to be "stuck" playing with an algorithm. You can actually play live, with live dealers and other players from across the world. Some of the best software providers out there have huge professional studios in places like Australia, Malta, Canada, and anywhere that they might be based and have access to a high-quality workforce.
When you enter an online casino, simply look for live table games and you'll spot live blackjack right away. Live dealer games are fun, social, and very easy to play. If you know the basic rules, they will be a breeze. The most amazing thing about them is that you don't have to play alone – you can feel like a part of a dedicated online community, where people like you come to gamble and enjoy themselves for fun.
Evolution Gaming is one of many software providers that make this type of experience possible. Take a look at some of the fine points of the game – notice that the dealers use an actual shoe like they would in a real-life casino, not an automatic shuffling machine.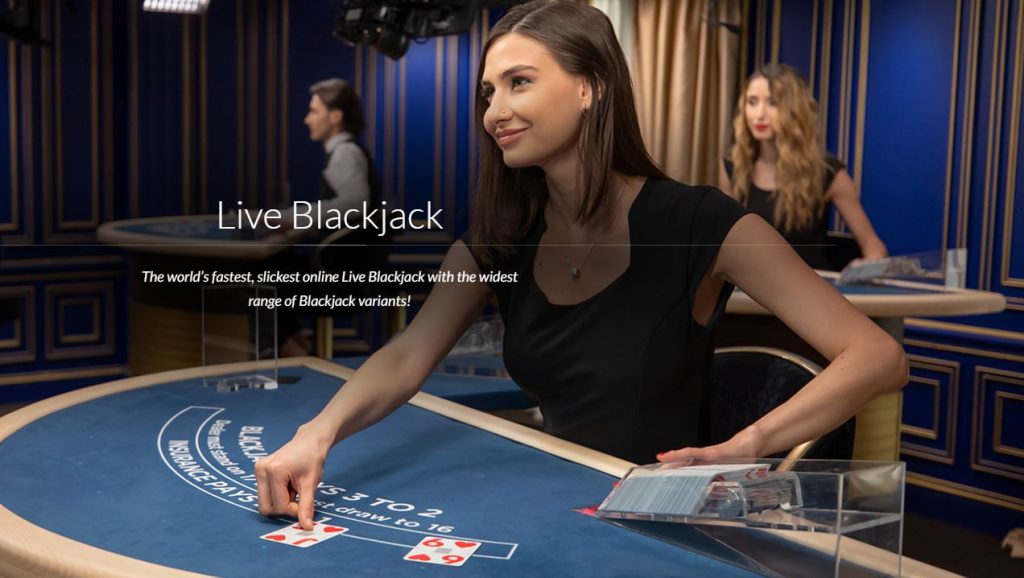 If a large company like Evolution or NetEnt does something, it won't only be one game – you'll get amazing variety. There are different varieties of live blackjack available for you, and you can try to play all of them. These include
Speed ​​Blackjack
Infinite Blackjack
Free Bet Blackjack
Power Blackjack
VIP Blackjack
Salon Prive
These are all made to look and feel as if you were in some of the most opulent casinos in Macao, Las Vegas or Monte Carlo, and the rules vary just slightly. Don't be shy – come on up and have a seat at one of these magnificent tables!